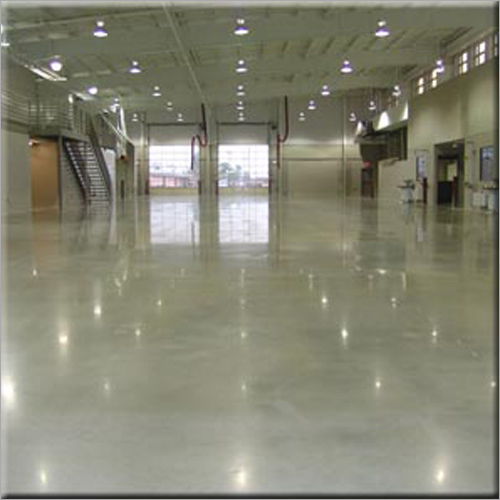 Concrete Polishing
Price And Quantity
Square Foot/Square Foots

4000-5000
Square Foot/Square Foots

30.00 - 50.00 INR
Service Description
Concrete Polishing Service

Concrete Polishing Service is offered with meticulousness under the strict direction of diligent specialists by applying newest tools, machinery, and methods. This service covers the life of the existing surface while letting it to respire. It is extensively required in commercial zones such as warehouses and garages. Further, we guarantee our alleged customers that our presented polishing service is implemented within a specified time-frame.

Why Utilize Concrete Polishing services?
Highly Supportable & Economical
Provide conveniently cleanable floors
Environmental friendly
Concrete Flooring and Polished Concrete Give Your Concrete A New Life

As per recent approximations by UN agencies India is going to build over 10.2 billion square meters of novel building exterior in coming 10 years. This is a vast area of exterior to do with conformist materials like granite, marble, numerous other stones, synthetic tiles, mosaic, etc. Prices of like substances are growing suggestively over time and placing them is time consuming. This is an enormous opportunity for knowledges, which can be completed with economy, speed, and sustainable over time. Keeping these dictums in mind we organized some world-class machineries below one banner for our Indian marketplace. All these knowledges are preserved as Green Technologies. They varnish the surface on concrete itself in its place of some man made false substances or reducing our natural resources such as numerous stones.

The lasting upkeep costs can be astral for a commercial floor. Industries like manufactures, Wholesale Markets, Warehouses, Shopping Malls, Shopping Arcades, Restaurants, Car dealers, Department Stores, utilize Polished Conrete due to coatings and sealers can have problems like staining, delaminating, and wear through. The lifetime of some of these varnishes can often be calculated in months, resultant in continuous up-keep. Polished concrete crops an awfully dense, abrasion resilient surface which will not delaminate.

Concrete polishing is the action of altering a current concrete surface through a mechanical process that includes cutting and/or refining the external to a wanted finish. Polished concrete is one of numerous end consequences in what is the dispensation of the concrete surface by automatic refinement through the utilization of manifold abrasives calculated in grits.
Polished Concrete System removes the requirement of unceasingly replacing the floor cover therefore making it value for money proposal. The refined Concrete Flooring is also attractive the favored choice of the ones observing for final NO WAX / EPOXY flooring choices. The polished concrete action acts as protection to prevent oil, grease, water, and other melting chemicals from powerful into the surface assembly it ideal option for industrial floors and also heavy-duty floors. Practically any concrete slab can be refined, irrespective of its age.

Polished concrete is hundred percent green flooring choice as it radically decreases the use of dissimilar floor topping, coatings or coverings over an offered slab on a project, that additionally leads to land-fills upon their ultimate replacement. It also decreases the energy necessities by minimum 30%. Further, signature system of polishing not only sustains appealingly pleasing design but also bring into line with the LEED rating organization and donates to LEED points.

Contact Us
Plot No B 176, Lajpat Nagar 1, Near Lajpat Nagar Metro Station, New Delhi, Delhi, 110024, India
Phone :+918037404789