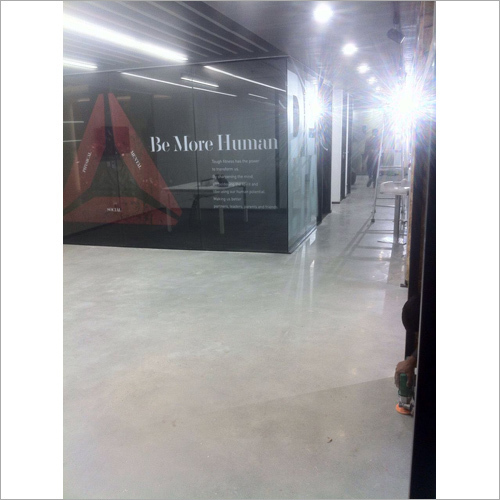 Concrete polishing
Product Code : reebok
Product Description
Concrete Flooring and Polished Concrete Give Your Concrete A New Life
As per recent estimates by UN agencies India is going to construct over 10.2 billion square meters of new building surface in next 10 years. This is a huge area of surface to do with conventional materials like marble, granite, various other stones, mosaic, synthetic tiles etc. Prices of such materials are increasing significantly over time and laying them are time consuming. This is a huge opportunity for technologies, which can be done with speed, economy and sustainable over time. With these motors in mind we arranged some world-class technologies under one banner for our Indian market. All these technologies are treated as Green Technologies. They finish the surface on concrete itself instead of some man made artificial materials or depleting our natural resources like various stones.

The long- term maintenance costs can be astronomical for a commercial floor. Businesses such as manufactures, Warehouses, Wholesale Markets, Shopping Arcades, Shopping Malls, Department Stores, Restaurants, Car dealers use Polished Concrete because coatings and sealers can have issues such as delaminating, staining and wear through. The life of some of these finishes can often be measured in months, resulting in constant up-keep. Polished concrete produces an extremely dense, abrasion resistant surface that will not delaminate.

Concrete polishing is the act of changing an existing concrete surface by means of a mechanical process that involves cutting and/or refining the surface to a desired finish. Polished concrete is one of many end results in what is the processing of the concrete surface by mechanical refinement through the use of multiple abrasives measured in grits.
Polished Concrete System eliminates the need of continuously replacing the floor covering thus making it value for money proposition. The polished Concrete Flooring is also becoming the preferred choice of the ones looking for ultimate NO WAX / EPOXY flooring options.The polished concrete treatment acts as shield to prevent water, oil, grease and other deicing chemicals from penetrating into the surface making it ideal choice for industrial floors and heavy duty floors.Almost any concrete slab can be polished, regardless of its age.

Polished concrete is 100% green flooring option because it drastically reduces the use of different floor topping, coverings or coatings over a given slab on a project, which on the other leads to land-fills upon their eventual replacement. It also reduces the energy requirements by at least 30%. In addition signature system of polishing not only upholds aesthetically pleasing design but also aligns with the LEED rating system and contributes to LEED points.
Contact Us
Plot No B 176, Lajpat Nagar 1, Near Lajpat Nagar Metro Station, New Delhi, Delhi, 110024, India
Phone :+917259110041